Scotty Beams Up for the Last Time
God beamed up Canadian actor James Doohan, on Monday, in Seattle, at the age of 85. He died from complications stemming from pneumonia.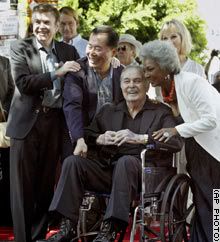 Here is James (celebrating with his former costars) getting his star on the Hollywood Walk of Fame

Although many might not know this, Doohan was a Canadian hero, whose service in WWII exposed him to hazardous chemicals, which created the conditions which eventually killed him.

A native of Vancouver, James started his career in radio before venturing into TV in the 1950's. I am sure many of my blogging friends will remember him as engineer Scotty, from the original TV series Star Trek (which, incidentally, was my favorite). For the under 30 crowd, his role was recreated for the Star Trek movie series. The scottish brogue was effected by Doohan, and became his "signature" on the show.






So for those of you who are curious, here is the fate of the remainder of the original Star Trek crew:

William Shatner (Captain Kirk) - Bill is now 74 and plugging All Bran and Price Line Dot Com products on TV.

Leonard Nimoy (Spock) - Leonard is also 74. His last film project was as the character Atlantean King (voice over) in the film Atlantis, The Lost Empire.

DeForest Kelly (Bones) - Deforest died in 1999 at the age of 79.

George Takei (Sulu) - George is now 68. George's last film work was in 2004 as Dr. Tsai in the movie Patient 14.

Nichelle Nichols (Uhura) - Nichelle is now 73. Nichelle just finished filming Are We There Yet in the role of Miss Mable and is currently filming 02 which is still in production.

Walter Koenig (Chekov) - Walter is now 68. In 2004, Walter recreated his role (albeit in a higher position than ensign) for Star Trek - The New Voyages. He is currently filming Mad Cow Girl which is set to be released in 2006.