Commissioner Ousted for Dressing Better Than Gay Parade Entrants
This mess just gets deeper and deeper. Neale News is reporting tonight that a Saskatchewan Commissioner is about to get fired for his refusal to perform a "marriage" for two gays.

The way I see it, the gay & lesbian activists are going to use their new found leverage (compliments of power hungry socialists who lied about religious protections, and cared little for the outfall), to anihilate the Christian right.

Village People devotees - like these guys(?):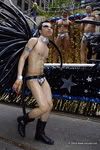 And they are actively seeking out opponents to SSM and targeting them for "crucifiction" - people like Orville Nicols who do not feel comfortable performing services for homosexuals.

As Mr. Nicols points out, there are several other commissioners who would be willing to perform the ceremony, but the sods are specifically targeting Mr. Nicols solely based on his religious indoctrination.

Much to his chagrin, Mr. Nicols can now join the ranks of Bishop Henry of Calgary, and Mr. Jim Chandler, Concerned Christians of Canada, who are also being brought before the HRC based on their religious beliefs. I'm sure in his 25 years as a Commissioner, he never dreamed he would be punished for being a Christian.

Of course, then again, maybe they are just upset that Mr. Nicols has better fashion sense then they do.